Biography
Andy Fallon is a commercial portrait photographer and Art Director based in London. With over 15 years experience he has worked within the music industry seeing him work with celebrities sports personalities and musicians including R.E.M, Lily Allen, The Killers, Jessica Ennis and Sir Chris Hoy.
A retrospective exhibition of his work at the famous Proud gallery in Camden has won him critical acclaim
Editorial clients
MOJO, NME, SPIN Magazine, Rolling Stone, Sunday Times magazine, Sunday Times Style, Sunday Times Ingear, Guardian weekend, GQ, FHM, Shortlist magazine, Total Film.
Commercial clients
Sainsbury's, Ford, PG Tips, XBOX, KFC, National Lottery, Butlins, Kelloggs, Bertolli, Nintendo, SKY HD, IKEA.
Radio interview
BBC Radio 4 'Picturing Britain' Series
Audio clip: Adobe Flash Player (version 9 or above) is required to play this audio clip. Download the latest version here. You also need to have JavaScript enabled in your browser.
Video interviews
Portrait photographer Andy Fallon from Andy Fallon on Vimeo.

Press & interviews
Music photography interview with Digital Pro Magazine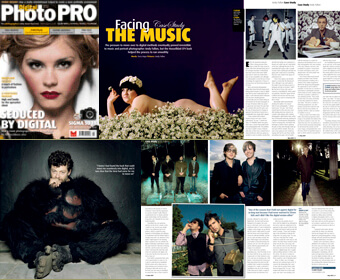 Click here for the pdf DIGITAL PRO PHOTO

'SIX SHOOTERS' Exhibition Camden Proud gallery
Proud Camden presents Six Shooters, an exclusive photographic portrait of the contemporary music scene by a collaboration of the UK's six leading music photographers: Roger Sargent, Mick Hutson, Andy Fallon, Paul Harries, Andy Willsher and Andy Cotterill. The largest scale exhibition in Proud's history, Six Shooters will be spread over two huge gallery spaces. A far cry from your run of the mill group show, this exhibition represents the culmination of many years of photography and friendship. 1999 saw six of the UK's best music photographers head to Reading Festival, each separately undertaking assignments to document the festival's performers. Three days later, after much equipment sharing and lens cap finding, the group departed having forged what was to be lasting friendships. Today this group of photographers is the most sought after in the business, having between them shot every notable band and musician you can think of, toured with the very best and been published in almost every major publication both nationally and across the world. Individually they each represent one sixth of a group of the most internationally recognised, leading figures in the photographic industry. What is more, in a competitive and cutthroat business, these six photographers remain firmly in it together − creating a working co−op that offers a cast-iron guarantee of great photogra
phy as well as artistic integrity. As Serge Pizzorno of Kasabian puts it, These are the nice guys of Rock 'n' Roll. The Six Shooters exhibition edit reads like a who's who of music's most influential, critically acclaimed and commercially successful individuals− Muse, Arctic Monkeys, Paul Weller, Bjork, Green Day, Lily Allen, Pete Doherty, The White Stripes, U2, Chris Martin, Dave Grohl, Kasabian, Razorlight, Killers, Jay Z, Jarvis Cocker, Ian Brown, Oasis, Morrissey, REM, Eminem, Marilyn Manson, The Kooks, Libertines, The Clash, Bobby Gillespie, Blur, Kings of Leon, Metallic and Motorhead to name a mere fraction. This look at the modern music scene will provide a window onto the best that the music has to offer, shot by today's most important photographers. An absolute must see for music and photography fans alike, the unrivalled exhibition is set to be the most important of its kind.
All six photographers have kindly donated one of their prints to be auctioned in aid of Teenage Cancer Trust. The images, including Dave Grohl, Libertines, Noel Fielding and Slipknot are signed by the artists and will be framed. The auction goes live on eBay on Monday 12th July and finishes on Thursday 22nd July. Visit www.teenagecancertrust.org for further details.